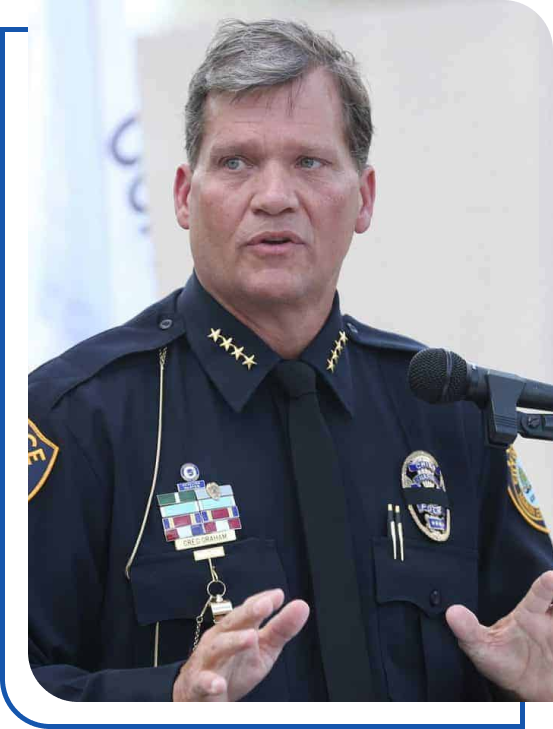 On, October 25, 2020, Marion County, Florida lost an icon when the City of Ocala Police Chief Greg Graham passed away in a plane crash. The legacy he left on his family, friends and the community will forever be felt in the lives he touched. This fund is established to remember the man loved by so many who impacted even more.
INAUGURAL YEAR OF THE FUND
In 2020, the Foundation Fund raised money and
support for the following projects:
Two scholarships for the Florida State Fire College through Marion Technical College
Provided one scholarship to the College of Central Florida Police Academy
Helped purchase the Ice Cream Truck for the Ocala Police Department Polar Patrol program
Purchased the "Legacy" painted horse for the community through Marion Cultural Alliance
Provided financial support to Ocala Police Department to recruit and attract new officers
Built the koi reflection pond at Beacon Point
Donation to the Boys & Girls Club of Marion County
Chief Graham enjoyed being physically active, and exercise was very important to him. He was a barefoot skier, scuba diver, sky diver, and pilot. But most days he could be found on a "reserved" treadmill at Zone Health & Fitness on Pine Ave. right next to the Police department. He also cared deeply for the physical and mental health of the community's young people and was actively engaged in projects benefiting our kids.
Greg Graham joined the Ocala Police Department in 1983. He earned multiple designation while with the department, serving as deputy chief before leaving Ocala for a brief stint from 2008-2011 to serve as the Police Chief of Cedar Rapids, Iowa. On January 3, 2012, he became the Ocala police chief. Throughout his time with the department he served on numerous boards of directors for nonprofits, worked with countless community impact programs, and served his community well in everything he did.
An amnesty program for people addicted to drugs became a significant focus for Graham and his department since 2018. The Heroin/Opioid Amnesty Program assists those suffering from addiction in three ways: walking into the police department, calling the department for help, or seeking out any police officer for assistance. Once the individual reaches out, they are transported to a local rehab facility to get the treatment they deserve.
He spent a great amount of time finding help for my son to beat his addiction, and then checked in with me weekly to see what help I needed. Greg was instrumental in getting my son into rehab, and then when he went to prison for his DUI's, Greg was a constant support for me with encouragement..
This statue was painted to honor Chief Greg Graham. It features different activities he loved to do outside of his policing career. After a tour of businesses around town, Legacy's home will be at the Ocala Police Department.
Thank You To All Who Participated In This Year's 
Chief Greg Graham Legacy Walk
The second annual Greg Graham walk was a great success this year! There was a terrific turnout at Zone East in Ocala. Thank you to Ben Marciano for allowing us to have the event at his place of business. We raised over $100,000 to support the Chief Greg Graham Legacy Foundation Boys & Girls Club of Marion County, Florida and The Lost and Found Club (to support people battling addiction).
Chief Greg Graham Legacy Foundation Fund
Give a Little. Help a Lot. Be a Part.